'Right on!'
painting series
acrylic on wood, QR codes
12″ x 12″
press release
Daily Camera article
303 Magazine article

Right On' is a series of paintings in response to the social crisis related to the 2020 protests and systemic racism. Angie Eng pays homage to conceptual artist, On Kawara's 'Today Series' and appropriates it into a civil rights project. 32 plaques painted in skin tone colors each have a date and a QR code. Each date corresponds to notable as well as obscure landmark civil rights case. The selected dates are not limited to racial justice, but also include historical cases addressing discrimination by gender, disabilities, immigration, class, and sexuality.
view all dates of Right on! plaques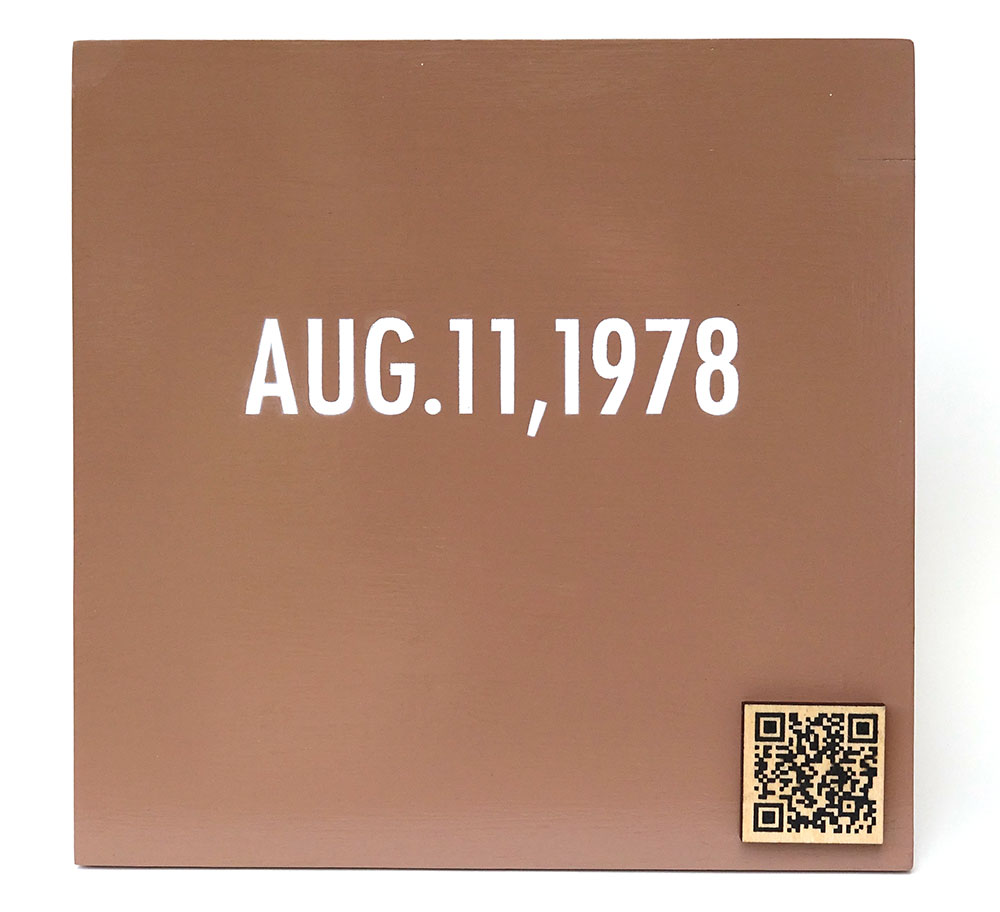 I wanted to respond to our social crisis and systemic racism. I felt with the state of our democracy, marching and signing petitions would not be enough for social change like it was 50-60 years ago.As an educator and artist, I felt I should channel my anger, frustration, and sadness over the divided state of our society by using my best toolkit: visual art and teaching.

For over four decades conceptual artist, On Kawara, created thousands of 10" x 12" paintings with the date in his 'Today' series. I wanted to remix the form of On Kawara for this civil justice art project. Like all appropriation artists, I wanted to add another layer to propose a concept which motivates people to stop and reflect on the struggle and on-going process for American justice. Hence, I painted the date of notable and obscure landmark civil rights cases and events on 12" x 12" wooden plaques painted in skin-toned colors to remind us of our history and our collective experience as a nation.

Our transformation as a society is at step 1– the bottom of the fork in the road before making a decision on which direction to head. It is this position to reassess, reflect, and know where we stand before going forward. When people scan the QR codes and read a few cases and dates, I want questions to come up for each visitor: 'Do I know the Other's history?', 'Do I concern myself with justice that applies to only my own identity?', 'Why didn't I learn that historical date in school?' I want visitors to recognize that justice for one group is justice for all people and therefore injustice for one group is injustice for all of us if we claim to be American.
Thank you to those individuals who supported this project and made it happen in a very short time frame of 1 month and despite store/venue closures during COVID: Noah Anast, Amelia Brackett, Lorraine Emery, Shelly Fuller, Nathan Hardaway, Azia Abrahan-May, Don Murray, Kate Nicholson, Gabrielle Shapiro, Vita Waters, Zack Jacobson Weaver, Bettina Wiesenthal, BLDG61, Boulder County Hazardous Waste, Rob Hendershot Maker Micro Grant, Transforming Creatives Grant, and the Museum of Boulder.